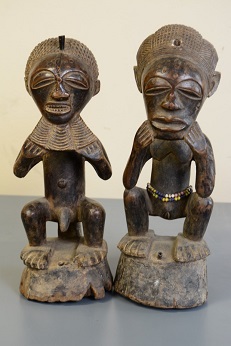 In December 2014 and December 2015, the Melvin B. Tolson Black Heritage Center was gifted two collections of 17th, 18th and 19th Century African artifacts from a group of 11 donors. This collection is the largest one-time gift that has been donated to the Center. The artifacts represent 17 tribes from 8 different countries (Democratic Republic of the Congo, Gabon, Guinea, Liberia, Ivory Coast, Mali, Nigeria and Tanzania).
The collection contains pieces that vary in the materials used and the function of the piece. The artifacts are made from wood, bronze, animal hair, leather, beads and other materials.
This gallery highlights the pieces in the collection and contains information about each artifact. These items are currently on display and can be seen during Center hours, which are Monday-Friday 8:00 a.m.-5:00 p.m. For more information, contact the Melvin B. Tolson Black Heritage Center at 405-466-3346. These images were digitized by the staff at the Melvin B. Tolson Black Heritage Center at Langston University. The text and images in this collection may be used for not-for-profit research or teaching purposes, or other "fair use" as defined by U.S. copyright law. Please be sure to credit Melvin B. Tolson Black Heritage Center, Langston University.
Printing is not supported at the primary Gallery Thumbnail page. Please first navigate to a specific Image before printing.